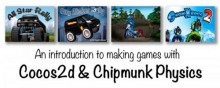 Tonight I have the privilege of giving a presentation at the CocoaHeads Chicago (CAWUG) monthly meeting.
While some code will be discussed, the presentation is a high-level overview of the basic concepts and tools involved in building iPhone/iPod/iPad games with Cocos2d and Chipmunk Physics.
You must join the CocoaHeads Chicago Google group to attend by clicking here.
If you are new to CocoaHeads Chicago, please post a comment here after joining the Google group and state that you will be attending the meeting. Space is limited and after the event is full additional arrivals may be turned away.
Download Presentation Slide Deck
When:    
Tuesday, 9/11, 7:00 PM
Where:
Apple Store Michigan Avenue
679 North Michigan Ave. (at the corner of Huron & Michigan Ave.)
Chicago, IL 60611
http://www.apple.com/retail/northmichiganavenue/map/